Supporting Dentures With Dental Implants
In our last blog, we looked at how dental bridges can provide a secure and lifelike solution to minor tooth loss. But what about our Kansas City, MO, residents that have lost a majority of their teeth, or all of them? In order to restore the function and beauty of the smile, we may create and place lifelike dentures. In fact, we can even secure them with advanced implant dentistry!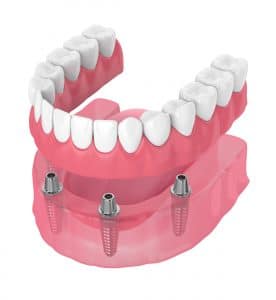 Don't Live With Tooth Loss
When we lose several teeth, this can make eating our favorite foods difficult. Being forced to rely mainly on soft foods could deprive your body of essential nutrients and lead to poorer overall health. Others may find speaking clearly difficult, which could lead to issues with your social life. Since the body deprives the jawbone around a missing tooth of doses of calcium and phosphorus, this leads to a breakdown of jawbone tissue and an aged appearance, as well as further tooth loss. Don't let missing teeth lead to problems for your overall health and quality of life. Talk to our team, it's never too late!
The Benefits of Implant Support
We will choose the optimal area to insert between six and eight dental implants, or for some patients, as little as four, per arch. The dental implants will bond with the bone tissue like natural tooth roots, a process known as osseointegration. This means they can stay in place for decades, possibly even a lifetime. After osseointegration takes place, which usually requires between three and four months, we will attach your final prosthetic.
Creating Lifelike Replacement Teeth
We will take detailed impressions and images, as well as measurements and x-rays, of your smile. We use the information we gather to design your prosthetic. We use acrylic to craft a base that looks like gum tissue, and ceramic to create a row of strong and durable replacement teeth that can absorb serious bite forces and pressure. The denture will be attached to the implants, securing them firmly in place. You won't need to remove them for cleaning or soaking, and they will never slip when you eat or speak. They last much longer than removable dentures, which usually need to be replaced every three to four months, and they stimulate the growth of jawbone tissue to prevent a prematurely aged appearance. If you have any questions about tackling your missing teeth, then please contact our team today to learn more.
Talk to Our Team Today
We know the difficulties that losing a majority of your teeth can cause, and we want to help. To learn more about our approach to prosthetic dentistry, then please schedule a consultation by calling Cosmetic & Implant Dentistry of Kansas City, MO, today at 816-427-4018.