Dental Implants With Optional IV Sedation
Renew Your Smile With Natural-Looking, Permanent Dental Restoration
Replacing lost or damaged teeth helps you smile more confidently and preserve your remaining natural teeth. With dental implants, your replacement teeth also help to keep your jawbone strong and healthy, so you can enjoy a more youthful smile and facial appearance, even after tooth loss.
Get the Best Cosmetic Dental Implants in Kansas City
Dental implants are made up of small, root-like posts made from biocompatible titanium with a custom-made dental crown on top.
During a simple oral surgery, the titanium post is inserted into your jawbone, which heals to become a permanent part of your jaw. Your oral surgeon will then adhere a dental crown that looks exactly like your natural teeth to the titanium post.
With proper care, your cosmetic dental implants can last for life and have a success rate of more than 90 percent – take a look at two of our many success stories.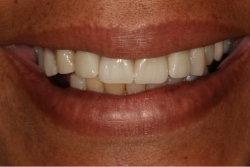 Before and After: Our patient suffered from tooth decay and failing dental work. She opted for dental implants – and her smile looks better than ever!
Before and After: Our patient lost a portion of his lower jawbone to oral cancer, but after defeating his disease, he wanted to restore his smile. Our oral surgeons created a permanent prosthetic supported by multiple dental implant posts to rebuild his smile.
Arranging a Pre-Surgical Evaluation Before Receiving Dental Implants
Before you can receive cosmetic dental implants, our oral surgeons must determine if you qualify. The pre-surgical evaluation is a vital step in the process of restoring your smile. During your evaluation, our dentist will:
Examine your oral structures.
Take a 3-D CBCT scan to map bone and soft structures in and around your mouth.
Perform an intraoral scan.
Plan a dental restoration plan just for you.
When you commit to moving forward with dental implants at our practice, we'll apply the fees from your pre-surgical evaluation to the remaining cost of your treatment.
What Happens During the Cosmetic Dental Implant Process?
The best cosmetic dental implants are those that are long-lasting and durable. This means they must be properly installed by expert oral surgeons who follow a proven process to ensure optimal outcomes and utmost patient comfort.
If you have an existing tooth to be removed, your first appointment after your consultation is for extraction.
Then, you must let the empty socket heal for three to six months.
Once healing is complete, we implant the titanium post into your jaw and top it with a temporary dental crown.
Your permanent dental crown will arrive in four to six weeks, and you'll return to our downtown dental office for quick installation.
Are Dental Implants Painful?
During your implant procedure, your mouth will be medically numb, or you can receive IV sedation, so you won't feel anything. Afterward, most patients report oral tenderness relieved by over-the-counter medications and other home care. Before and after your oral surgery, our team will educate you on pain-reduction options.
How Much Do Dental Implants Cost?
Dental implant costs vary, depending on the preparation work necessary (such as extracting unhealthy teeth to be replaced) and the number of implants you need. During your consultation, our team can calculate an estimate for you.
Do I Really Need to Wait Months Between My Tooth Extraction and Dental Implant? I Need a Perfect Smile, Quickly.
At Cosmetic and Implant Dentistry of Kansas City, we also offer same-day dental implants for qualified patients who meet strict criteria.
Find Out if You Qualify for Dental Implants
After losing one or more teeth, cosmetic dental implants can offer the most comprehensive long-term benefits for rebuilding your smile. To find out if you're a candidate, call our office at 
(816) 897-4288
 or request an appointment online.