Learn to Smile Again With Custom Dentures!
Although dental bridges are an excellent prosthetic option for patients who have lost just a few teeth, they're not comprehensive enough to replace a significant number of missing teeth. For more serious cases, our partial, full, or implant-supported dentures are often better options.
Patients can get an all-new smile in just four or five visits to our dental office in downtown Kansas City. Lifelike dentures are fully customized to match our patients' preferences, so you can smile with confidence. Our state-of-the-art techniques ensure the best possible fit and comfort.
Choose Custom-Fit Dentures for Comfort and Customization
Your dentures should fit properly so you can talk, laugh, and smile. Our methodical process allows your gums time to heal after any necessary extractions and gives plenty of opportunity for the careful creation of your new smile. Both can ensure better-fitting dentures, intended to last a lifetime.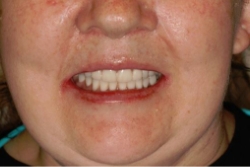 Before and After: After many years without dental care while handling serious medical conditions, our patient got her health under control and was ready for a new smile.
We allow our patients to truly customize their dentures, try them on, and even make changes to their new smiles before receiving their final dentures. Patients can choose:
Fixed-Implant Dentures Benefits
Whether you receive a full or partial denture, your dentist may recommend supporting your replacement teeth with a series of dental implants, which serve as replacements for your lost teeth roots. These are called either implant-supported dentures or fixed-implant dentures. The benefits of implant-supported dentures are listed below. Find out if fixed-implant dentures are right for you by 
scheduling a consultation at our dental practice in downtown Kansas City
.
Improved denture grip over time.
Improved functionality; they work just like your natural teeth!
Better stability because they are a permanent fixture.
Retaining jawbone strength and bone density.
Do I Need Full or Partial Dentures?
Full dentures consist of an entire row of replacement teeth that mimic your natural dentition. The replacement row of teeth is supported by a comfortable, gum-colored base that fits securely on your dental ridge. Conversely, a partial denture consists of lifelike replacement teeth, but with spaces between to make room for the natural teeth you still have.
Do You Offer Same-Day Dentures in Kansas City?
No. For the best fit and function, Cosmetic and Implant Dentistry of Kansas City does not offer same-day dentures. Learn how we ensure your dentures meet your expectations during a consultation.
How Long Do Implant-Supported Dentures Take?
Implant-supported dentures require both the production of a denture as well as a dental implant procedure. Depending on your oral structures and the health of your existing teeth, receiving a dental implant can take as little as one day or a few months.
Custom Dentures Near You Are Just a Phone Call Away
Bring back your confident smile and the look you've always wanted with custom partial or full dentures. To
schedule a consultation
, call Cosmetic and Implant Dentistry of Kansas City today at 
(816) 897-4288
.