Placing Dental Implants With Oral Surgery
Oral surgery is about much more than just removing wisdom teeth or completing a ridge augmentation. We can also use surgery to address missing teeth with a durable and lifelike replacement! In today's blog, your Kansas City, MO, dentist talks about the process of placing one or more dental implants.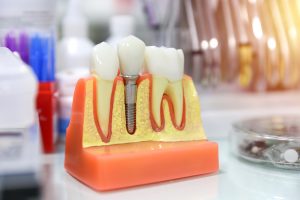 Preparing Your Smile
First, we need to understand the factors behind you tooth loss. For many, the advanced stage of gum disease is responsible for missing teeth. Treatment for these underlying oral health issues could be necessary before we move forward with the placement of one or more dental implants. We also use the digital x-ray and intraoral camera images to plan the treatment, so we can guide the process and avoid nerve tissues or sinus cavities when inserting your new roots.
Dental Sedation
Once we're ready to begin the process, we want to make sure you feel comfortable and relaxed. In addition to a local numbing agent for the placement area, we could also offer dental sedation. You enter a calm and relaxed state with little to no memory of the procedure. This is great for people who have dental anxiety, special needs, or other issues that makes completing oral surgical procedures difficult.
Placing Your Implant Posts
We use the same digital technology we planned the procedure with to guide us as we insert the dental implants into the jawbone. Made from biocompatible titanium, the posts act as new roots, bonding with the jawbone through a process known as osseointegration. They then act as new roots, and allow your replacement teeth to last for decades to come, possibly even a lifetime! Once the area has healed, we move forward with completing the visible portion of your new tooth.
Restoration and Prosthetic Placement
We add an abutment to the implant posts and then attach a crown. The dental crown is custom-made for your smile, and designed to fit comfortably and preserve the balance of your bite. We also want to ensure it blends seamlessly with the rest of your smile, mimicking the appearance of natural tooth enamel. If you have more than one missing tooth, we can use multiple post to support a bridge or even a full set of dentures! If you have any questions about addressing missing teeth, or about how we use orals surgery to help you enjoy a complete smile again, then please contact our team today to learn more!
Ready to Replace Your Lost Teeth?
We want to place dental implants to provide a long-lasting and secure missing tooth replacement. To learn more about how our team will address one or more missing teeth, then schedule a consultation by calling Cosmetic & Implant Dentistry of Kansas City, MO, today at 816-427-4018.