Keeping Kids' Smiles Healthy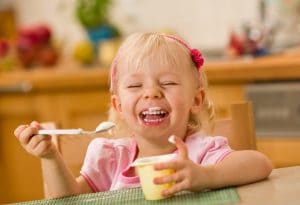 Good oral hygiene habits developed at a young age can carry with that child through their teens and adulthood. Good oral hygiene includes both brushing and flossing at home, mindful nutrition, and visiting your dentist at least twice a year. Preventative options such as dental sealants and fluoride treatments can help to protect your children's smiles against potentially harmful bacteria. Prevention is a key component to a healthy smile because once an issue arises, it can progress into a bigger problem.
Everyday Habits
Brushing your teeth at least twice a day and flossing at once is an important routine for everybody. For children, it can be important for you to monitor that brushing and flossing until you are sure that job being done is effective. Brushing should be at least two minutes per session; there are some toothbrushes with built-in timers. Dental checkups and cleanings should happen at least twice a year, and keeping up with these appointments can help create a good relationship between the dentist and your child. Drinking plenty of water each and every day can help keep the body hydrated and the mouth rinsed of harmful bacteria. Staying moderate with sugar (even the kind in fruit juice) can be a good habit to help your child form to protect their smile.
Sealants and Fluoride Treatments
A dental sealant is a thin, protective plastic coat is applied directly to the surface of clean teeth. The sealant prevents bacteria, plaque, and tartar from directly touching the enamel, which can eventually cause tooth decay and cavities. Dental sealants are not a pass for bad habits, but they can help be a last line of defense for a child's smile. Fluoride treatment is another kind of treatment applied directly to the teeth. This is done in an effort to remineralize and strengthen the enamel of the teeth because strong enamel can protect the tooth against decay and damage.
Good Smile Habits Formed as a Child Can Last a Lifetime
We want to help keep your entire family's smiles in good health. Our team at Cosmetic & Implant Dentistry of Kansas City is focused on creating a comfortable experience each time you visit. To schedule a consultation, call our office in Kansas City, MO, at 816-427-4018.